Fick ett mail från kent håkansson i Em som har lite koll på hur förutsättningarna ser ut i Skottland inför premiärresan till Tweed 1 februari.
Fisket i en av Skottlands vackraste älvar Helmsdale, startar av tradition den 11 januari men det hör inte till vanligheterna att det fångas någon fisk på premiärdagen. Inget ovanligt alls för den delen, för inte heller i Tweed som är ett betydligt större vatten system fångades det någon springer under förra årets premiär.. Vi vet, för vi var där och försökte!!!
Men häromdagen så var det dags igen i Helmsdale och denna gång var det åter igen Andy Sutherland som stod för bedriften. Läs artikeln här under som vi hämtat från ett laxfiskeforum i Skottland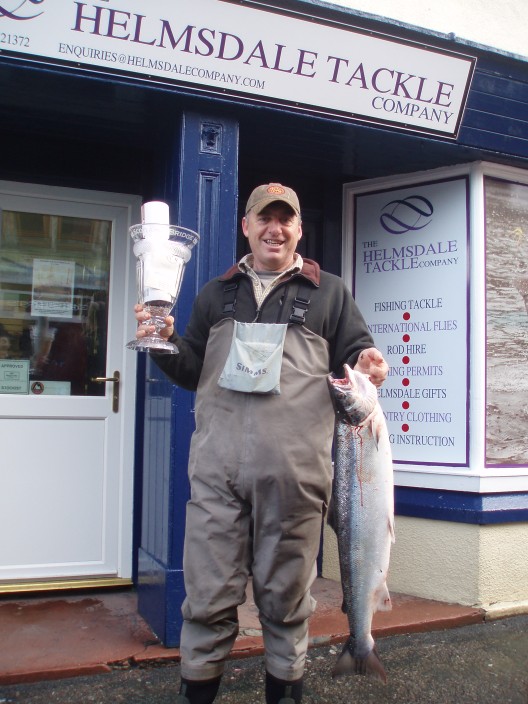 The first fish was landed by Andy Sutherland only 10 minutes after the
opening ceremony in the Lower Caen pool, on beat 1 on the Helmsdale just 1
mile above the village. The sparkling springer weighed in at 11.5lbs and was
sea-liced. The tackle used was his newly christened Scot Mackenzie 16ft
signature & Partridge Ian Gordon medium sink line with the local favourite
2″ Alistair copper tube fly. The last time a fish was caught on opening day
was 1991 also caught by Andy. It is tradition on the Helmsdale to keep the
first salmon of the season and Andy wins the Clynelish Bridge Hotel trophy
for his troubles, he also wins a season ticket on the Helmsdale Association
water and a £50 tackle voucher from the Helmsdale Tackle Company.
Conditions on the day were very good – after overnight rain the river rose
to 2ft. Water temperature reached 40 degrees and air temp topped out at 50.
The fish is believed to be the first salmon caught in the UK".
Fish the fly high wherever your rod will lead you / Tony
Ps. gjorde lite efterforskningar om flugan och fann den, har 2 i asken nu….: