River Spey v. 14 Nu är det dags att boka drömresan igen. Våren 2018 kommer vi arrangera 3 veckor i fantastiska [...]
Mattias summerar 2017 Sitter i min flickvän Amandas föräldrahem i Påskallavik och har varit här i 4 dagar. Vi har ätit gott, [...]
Why don´t many of the salmon come back to the rivers? Click on the Vimeo link.
Hur länge ska djurplågeriet få pågå i Emån vid Karlshammar? Hur länge ska djurplågeriet få pågå i Emån vid Karlshammars kraftverk, [...]
Mörrum rocks! FULLBOKAT!!! Grymt fiske i Mörrum just nu! Häng med! Nu har vi 2 platser kvar till de sista dagarna [...]
Mycket att göra Har dessvärre (eller bättre kanske?) fått ordentlig snurr på mitt företag adrenalin.nu och tyvärr har uppdateringarna de senaste [...]
Ny limiterad upplaga av Pelle Klippinges klassiska Emåbok Boken "Emån – med flugspö längs världens förnämsta havsöringsvatten" som Pelle skrev år 2000, såldes [...]
Amanda och Emma i Emån. Äntligen dags för årets upplaga av blänkarfiske med Emma (Condrup)! Regnet gjorde täta prickar på den [...]
River Spey 10 - 16 April Måndag Följ med 2019! Läs mer HÄR Nu har vi återvänt till Spey för andra [...]
River Dee 2 - 9 April Söndag. Tillbaka i river Dee, känns otroligt skönt. Vi har längtat sen vi åkte härifrån [...]
2 trevliga filmer från TSDIgår släppte Tellis den andra av ftvå filmer från sin och 2 kompisars resa till Patagonien i Sydamerika.Del 1 - [...]
"You must have hooked many salmon, lost some and landed far more, before you can call yourself a salmon angler – But the take from just one salmon – has the power to hook you for life"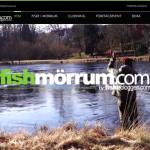 FISHMÖRRUM.COM
En separat, internationell sida för endast Mörrum. Fiske, kurser, guidning och företagsevent i Mörrum.